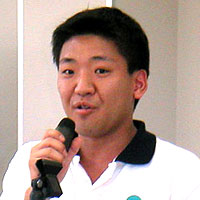 Tomohito Hirose '97
I participated the American Studies Program at TIUA and Willamette University in 1997.  After ASP, I studied abroad at Shanxi University, China in 1999.  After finishing studying abroad, I received B.A. in Human and Social Science from TIU in 2001.  Now I am working for Mizuho Securities.
Greeting

It is the great significance for us to make a various networks through the alumni activates.  Also we have an opportunity to show the students at TIU that many TIUA alumni are the active part in the world.

It is the motive that Prof. Gundersen and Mr. Shimada gave me some advices and their support to establish the alumni association.  Then I started to establish the organization with my friends, Kotaro Hirai '98 and Shinka Kunugida '98 who also participated American Studies Program at TIUA and Willamette University.  Our first activity is to tell our experience in Oregon for the prospective students.  After that, we hold the Reunion in Tokyo on December, 2002.  At this time, there were more than 100 people to participate our Reunion.  We are also planning the Reunion every year.  In the mean time, our students representatives section is doing many activities for the prospective students now.  Mr. Satoshi Kaneko, Director of International Exchange Center, is very supportive for us.  He gave us some helpful advices and  he provided us the room and the facilities at TIU.  Dr. President M. Lee Pelton, Willamette University, has hopes for us.  He mentioned about cooperation with WU Alumni in the future.  

Finally, we need to strengthen our unity in order to achieve our purpose.  Let's be active and develop our organization.  I will do the best as a leader of TIUA Alumni Association. 




Tomohito Hirose '97
President, TIUA Alumni Association